After extracting the downloaded file, a click on 'Radio_Mobile_Setup.exe' will start the installation process by producing the Welcome pane below: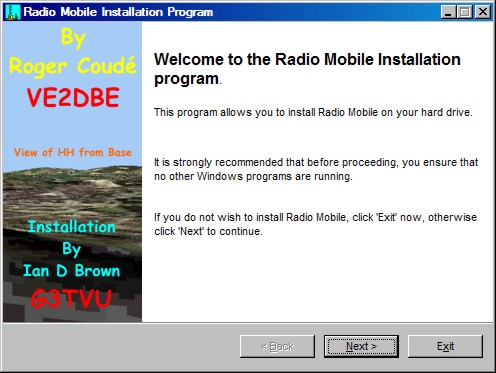 If you wish to continue the installation, a click on the 'Next' button will present you with the Licence pane, otherwise you can exit the installer.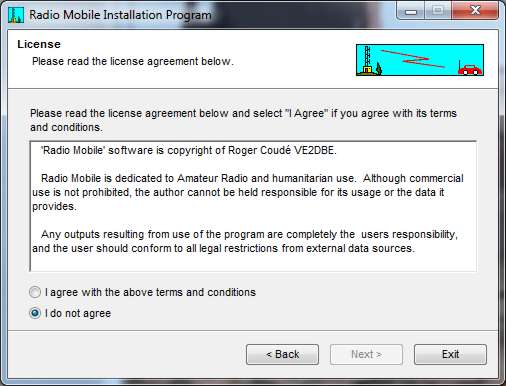 To continue with the installation, a click on the 'I agree' button enables the 'Next' button to proceed.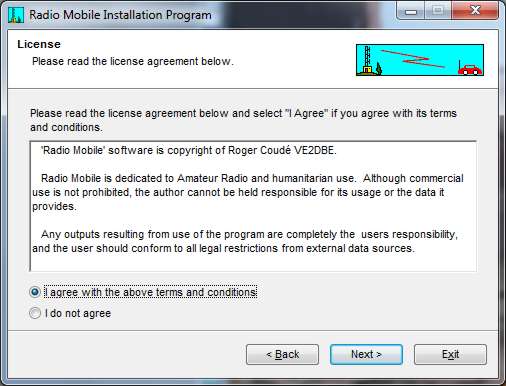 At this point, an Information pane is shown regarding the access requirements for download of Internet based information. Later in the installation a button is available to access, and modify, the control file if required.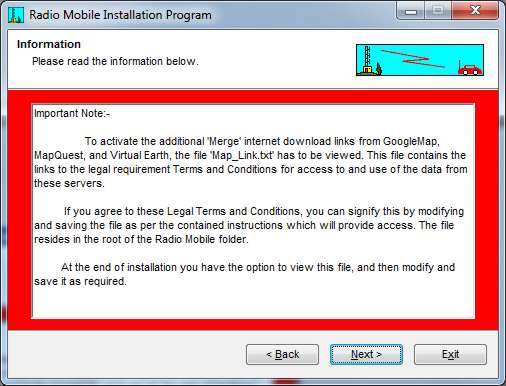 The next pane in the sequence shows the default 'Installation Folder'. It is recommended that this folder is used, as all the internal data links and file locations would otherwise have to be modified, and if set up incorrectly, would prevent the program from operating immediately.
The settings used for the installation are shown on the 'Base Network Settings' page,
available from the Navigation buttons at the bottom of the page or here.
* The 'Blue' notes show modifications for alternate installation on to the 'H' drive.
Note that if the installation directory is changed, the 'Radio Mobile' program
will initially open with a blank frame which allows the settings to be adjusted.
You can view the details on how to reconfigure the installed
network to your own location by downloading
'Reconfiguring the Base Network' HERE.
Para la versión española de la reconfiguración - Haga clic AQUI.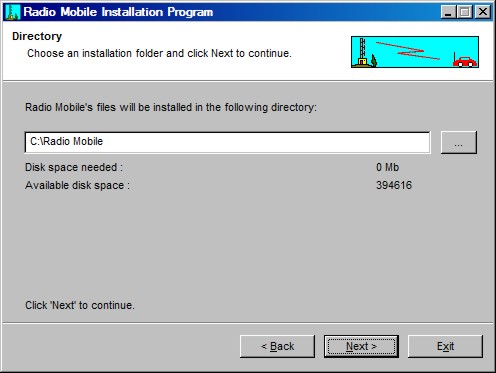 In the following pane, you confirm that you are ready to install the files into the selected folder. A click on the 'Start' button initialises installation.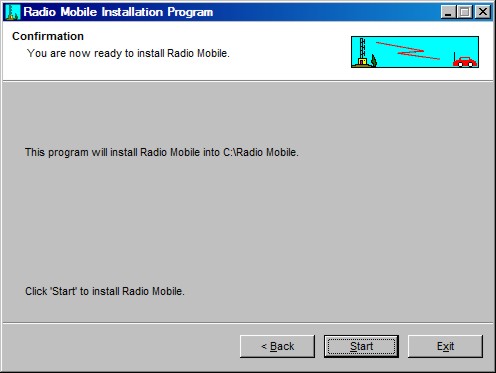 Following the short installation process, the next screen is displayed where you can view (and modify before saving) the download enabling file Map_Link.txt. You can then decide if you wish Radio Mobile to be launched on closing the installer.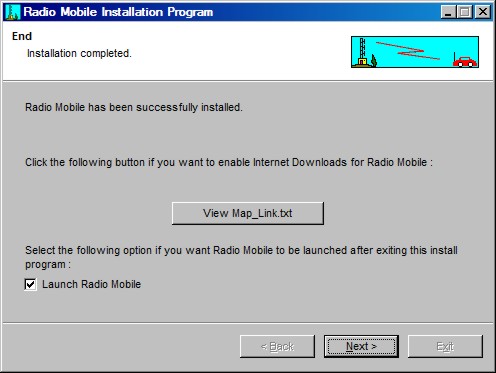 The final screen displayed by the installer, shows the origin of this free version of the software used here. Closing this screen adds nothing to your computer, and is a small consideration for the use of excellent software.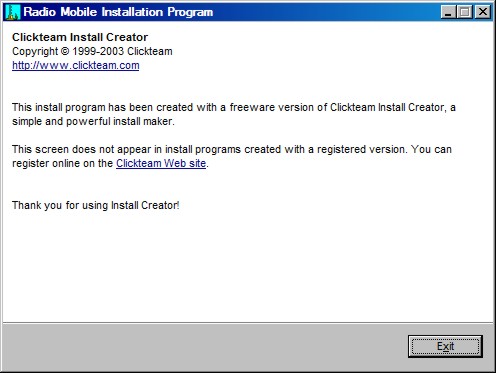 There is also an Uninstall entry generated in Program Files - activation of this will remove all the files generated by the installer. If however additional files have been added, the Radio Mobile folder will remain on the computer but only contain those additional files.
This page is available in pdf format here
Return to the Quick Start page






© Copyright G3TVU
1st February 2016