The program toolbar icons take this form:

| ----- 1 ------ | ------ 2 ----- | ---- 3 ---- | 4 | -- 5 --- | ------- 6 ----- | --------- 7 --------- | 8 |-- 9 -------- |
They are arranged into nine regions, each with a specific focus. A Left click on any button activates the command.
A Right click on the Toolbar will open the following pane where Icons for display may be selected to give a fully personalised set to meet your operational requirements.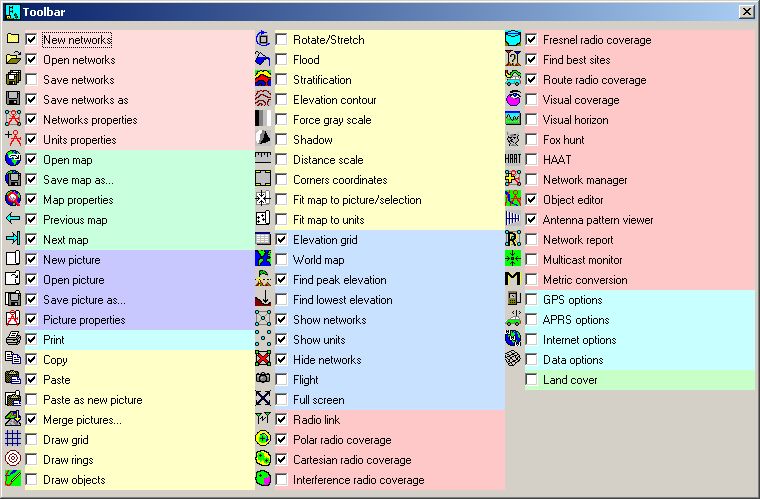 The illustrative toolbar Icons above are shown below:
Place the mouse cursor on the icons to see their descriptions.
Region 1:

New Network

Save Network as..

Open Network

Network Properties

Save Networks

Unit Properties
Region 2:

Open Map

Save Map as..

Map Properties

Previous Map

Next Map
Region 3:

New Picture

Open Picture

Save Picture as..

Picture Properties
Region 4:

Print
Region 5:

Copy

Paste

Paste as New Picture

Merge Pictures (F7)

Draw Grid

Draw Rings

Draw Objects

Rotate/Stretch

Flood

Stratification

Elevation Contour

Force Greyscale

Shadow

Distance Scale

Corner Coordinates

Fit Map to Picture/Selection (F9)

Fit Map to Units
Region 6:

Elevation Grid

World Map

Find Peak Elevation

Find Lowest Elevation

Show Networks

Show Units

Hide Networks

Flight

Full Screen
Region 7:

Radio Link (F2)

Polar Radio Coverage (F3)

Cartesian Radio Coverage (F4)

Interference Radio Coverage

Fresnel Radio Coverage

Find Best Sites Radio Coverage (F5)

Route Radio Coverage (F6)

Visual Coverage (F11)

Visual Horizon (F12)

Fox Hunt

HAAT

Network Manager

Object Editor

Antenna Pattern Viewer

Network Report

Multicast Monitor

Metric Converter
Region 8:

GPS Options

APRS Options

Internet Options

Data Options
When Land cover is selected in 'Options/Elevation data/Land cover' and the Land cover data file is present on your computer, enabling 'Land cover' on the 'Toolbar Options' pane will show the Green background button below beyond Region 8 of the toolbar.
The Green background shows the the data is available, and is being used in propagation calculations. A click on the button changes the background colour to Red, disabling the use of the data in the calculations.
Where the data file is not available on the computer only the Red background will be displayed.

A Green button shows data is available and in use.

A Red button shows that the data is unavailable for use.
Return to

page.
This page is available in pdf format here





Don't forget the Handbooks
© Copyright G3TVU
1st February 2016